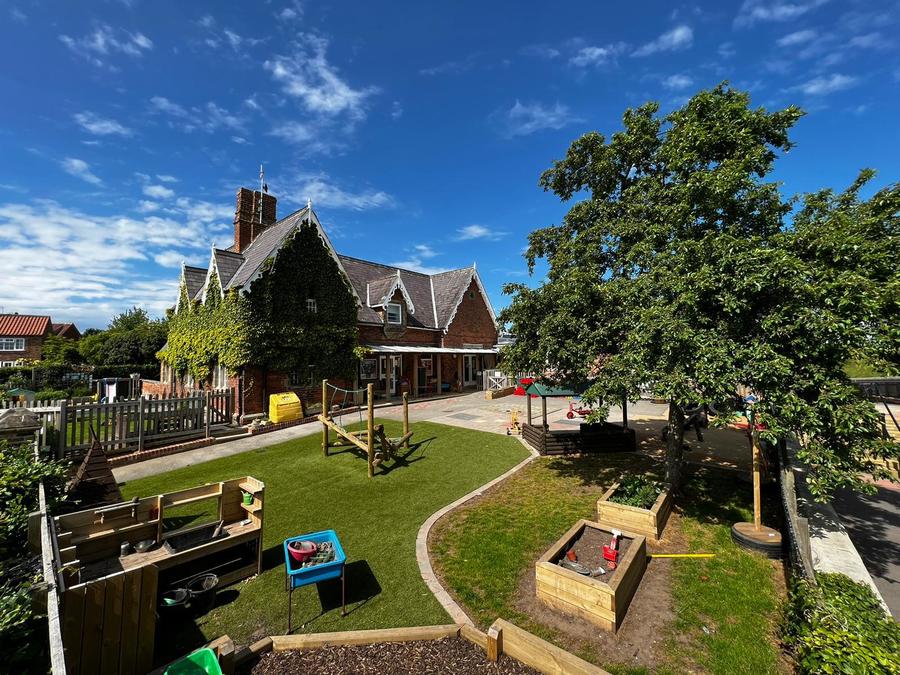 Marton Pre-school
The Governors of Marton-cum-Grafton School also provide a 13 place Pre-school on the school site for 3-5 year olds.
AM Session 8.45am - 11.45am
PM Session 1.00pm - 3.oopm
The Pre-school is purpose built for pre-school age children where provision is of the highest quality. There is a spacious, secure outdoor learning environment where children can use large equipment and wheeled toys as well as benefit from structured play and learning activities. Indoors, the area is attractively laid out to stimulate young minds. The unit has the advantage that Pre-school and School's Reception children can work and play alongside one another and access learning opportunities that are appropriate to their needs and interests.
Teaching in our Pre-school is based on the fundamental principal that children learn best through play and concrete experiences. We recognise that learning does not just happen at school and our Early Years curriculum builds on and extends the experiences children have had and do have at home. Our staff work closely with parents and carers to provide a safe and secure environment where children feel confident to explore and investigate through self-chosen and planned play. Children will take part in adult-led activities as well as creating their own play using our wide range of stimulating resources and extensive space. We aim to broaden children's experience by extending their play and challenging them when they are ready.
Parents may apply for a place at Pre-school and take up their 15 hours free entitlement from the term after their child's 3rd birthday. A further 15 hours extended entitlement is available for families where parents are working and meet the relevant criteria; for further information please click on this link - 30 hours extended early years entitlement for eligible three and four year olds. Pre-school children may also access the school's wrap around care at the BAFTA club - the terms and conditions for the BAFTA club can be found on the Marton-cum-Grafton School's Policies page of this website.
Applying for a place at Pre-school
Parents/carers wishing to apply for a place for their child will need to complete both a Pre-school Application Form and a Pre-school Supplementary Evidence Form and return these to the school by the deadlines set out in the Governor's Policy on Pre-school Admissions. The Supplementary Evidence Form can be found at the back of this policy.
Pre-school Admissions Policy 2023-24
Pre-school admissions policy 2023-2024.pdf
Please contact the office at Marton-cum-Grafton School if you require further information or would like to arrange a visit to the Pre-school.